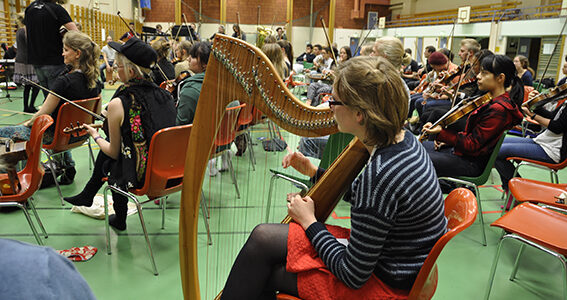 Schema ETHNO 2019
Så här ser grunden för schemat ut. Små ändringar kan ske.
Dagligt schema:
08.30-09.30 Breakfast
12.00-13.00 Lunch
17.30-18.30 Dinner
21.30-22.15 Evening snack with evening concert
Thursday June 27
13.00 Check-in Rättviksskolan
18:00 Gathering / Presentation of Ethno leaders and staff
Social activities, games, dance evening
Friday June 28
Workshops*
Saturday June 29
Workshops
13.00 Outdoor lunch concert at Café Nyfiket (selected groups)
Sunday June 30
Workshops
Afternoon: optional activities
Monday July 1
Workshops
Evening: Picnic and games at Siljan beach
Tuesday July 2
Workshops
14.00 Outdoor concert down town Rättvik (selected groups)
Wednesday July 3
Rehearsal & Concerts at Bingsjöstämman
Thursday July 4
Rehearsal & Concert in Rättvik (19.30)
Farewell party!
Friday July 5
Cleaning, packing, lunch, departure
13.00 Bus departure to Stockholm & Airport (foreign participants)
* Participants teach their tune to the others, in smaller workshop groups, organized by artistic leaders.