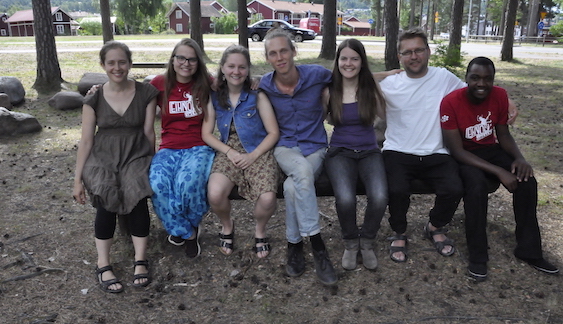 Get ready for another great ethnoband on tour in Sweden – Ethno On The Road 2018!
As always Ethno Sweden selects a band to tour in Sweden in the autumn. Five participants plus two experienced Ethbno leaders get together to spread some joy and great Ethno music to the Swedish public for two great weeks together. This year the tour will start with a gig at the Folkmusiknatta festival in Falun on November 10 and end with another fantastic gig at the World music festival in Piteå up in the far north of Sweden.
The band will consist of swedes Benjamin Vågerö Black on percussion and Gustav Andrén on saxophone, together with fiddle players Mélanie Brélaud from France and Marta Lotta Kukk from Estonia. Finally the band members with the longest journey to Sweden – singer and guitar player Gift Banda from Malawi! The leaders will be Peter Rousu, bass/guitar and Sandra Marteleur, violin. Both of them experienced Ethno leaders as well as fantastic musicians in several bands.
After playing in Falun the band will give public performances at Folkmusikens Hus, Rättvik (Nov 12), in Mora (Nov 14), in Skattungbyn (Nov 17), Östersund (Nov 18), Örnsköldsvik (Nov 21) before the final gig at the festival in Piteå. There will also be several workshops and school concerts – more dates can also be added.
PS: Alicia Jardine (third from the left in the photo) could not go on the tour so she has been replaced by Gustav Andrén.