For the first time will Ethno Sweden be able to welcome refugee youngsters to the big summer music camp in Rattvik. Seven young musicians, now living in Sweden but with their roots in different countries, will this year join the native Swedes and the foreign participants at Ethno. Thanks to the Songlines organisation and the educational organisation Bilda we have managed to invite these people and give them a good chance to network in their new country.
Eritrea, Syria, Iran and Afghanistan are the native countries for Sarkawt, Yonas, Dania, Farhad, Ameer, Habibulah and Hasibulah. For some time now they live in different parts of Sweden, getting adjusted to the new country.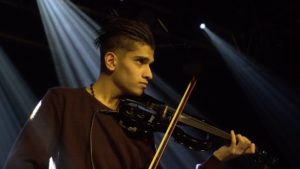 Dania Abdulrahim, 24, Syrian is the only girl in the group. She lives in Borlänge and already plays in a mixed folk band in her home town. She sings and plays darbouka and saz.
Farhad Misto is also a Syrian, he lives in Stockholm and plays tambor. Ameer Tarabolsy (picture left) , 19, is also Syrian and plays the violin.
Sarkawt is from Iran and since he has been adopted in Uddevalla his name is now Karlsson. He is 21 and plays the clarinet.
Yonas Kidane (picture left) , 19, plays the krar, live outside Kalmar and comes fromEritrea. He has been in Sweden for almost two years and he learned how to play by his uncle when he was seven. Hasibulah and Habibulah (top picture) är two young boys from Afghanistan, already performing as Afghan Group around Småland where they live.